DE-CORING HAMMER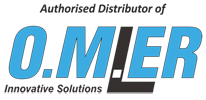 J B Engineering and Automation is the Authorised Distributor and After Sales Service provider for OMLER PNEUMATICS HAMMERS ITALY make for India.
O.M.LER s.r.l. manufactures in cooperation with the sister company O.M.LER 2000 decoring hammers for foundry in different models depending on the kind of casting to decore.
The hammers remove the sand core from cast iron, aluminium and steel castings of engine parts and from castings produced using the investment casting process.
Light weight
Forefront
Low friction
Sensor inside the jacket with fixed connector
High performances
Made with new materials